SOBI am MIttwoch den 18.04.2018 um 20.15 Uhr im Apex. (Veranstaltungsreihe Neues@kulturLichter)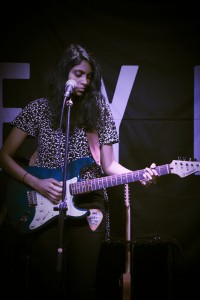 Style:              Singer-Songwriter / Folk / Pop
Sounds like:   Norah Jones / Laura Marling / Damien Rice

SOBI is a young singer-songwriter. Her roots are in Sri Lanka, she was born in Madrid, and after some years in London and Manchester, she is now based in Hannover, Germany.

The songs are often about reflecting on bad experiences and turning this into something positive to become better and stronger. SOBI performs either solo or with her band.

SOBI's current EP, 'Biting Back' (2016) has had airplay on the BBC and stations in Germany.

SOBI has supported Fyfe, Villagers, Jamie Lawson and Lee MacDougall.

A video of 'Crawling' filmed in Frankfurt on SOBI's Germany-UK tour in Oct-Nov 2016, became Sofar Sounds 'Video Of The Week' (worldwide) in Dec 2016. That video is here:

https://m.youtube.com/watch?v=qbZfJ3B0ncc&t=0s

In 2017, SOBI has performed in Germany, England, NYC and Zambia.
 Releases:

Betty La Guapa                      (Nov 2012)
Creatures In My Mind        (April 2015)
Biting Back                            (April 2016)                              
Links:
 https://www.facebook.com/sobimusic
https://www.youtube.com/watch?v=0bGyHRumcnk&feature=youtu.be