Sabrina Francis & Band am Mittwoch den 1. November 2017 um 20.15 Uhr im Apex. Vorverkauf Apex, ReserviX, alle öffentlichen Vorverkaufsstellen.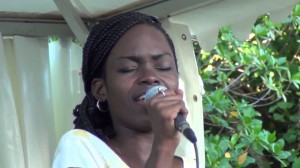 Sabrina Francis has been singing all of her life. A talent nourished from birth by her mother and role model Donysia Domerge, who is also a singer and great songwriter, and her very supportive father, who loves music as much as anybody else in her family. Mind you, she wasn't forced to practice the piano 8 hours a day or write entire symphonies, but she and at least four siblings were all taught how to appreciate the simple beat of a drum, to savour the feeling that can come from a group of harmonized voices, and to take pride in the gratification that can come from expressing yourself with a pen. Through-out the years, Sabrina's had a number of small but memorable opportunities to share her voice with Grenada, she and her sisters enjoyed singing together wherever they could and always had the welcomed support of God, family, friends and even complete strangers. A complete stranger was exactly what Dieter Burkhalter was to Sabrina when they met in November of 2013, but he, with his love for music and adventure, thought that she had something worth sharing. So step by step, song by song, one encouraging speech after another, he was the one that convinced her to devote serious time and energy into improving her talent, to do something with her voice, and knowing absolutely nothing of what the future holds for her, that is exactly what Sabrina intends to do.Meet the band: Sabrina Francis (Vocals), Dieter Burkhalter (keys), Alesia Aird (Guitar) Keane Jules (Drums). Four artists from very different back grounds brought together by one common interest. "The Love of Music" was their first project together once they met in 2014, they've had some slight modifications since then, but has kept that same slow soothing light sound. They call it Acoustic Soul from the West Indies, needless to say they're among the minority in a country that thrives on soca & reggae music. Despite this small set back, they've been very well received by locals and foreigners alike, because everyone can use some good soulful music at the end of a hard day.
They've done approximately 200 shows up till now including a short tour in Switzerland and plan to do so much more in the near future. So keep an ear out, this quartet brings new life to the words "upcoming act".
Vorverkauf: 15,- / ermäßigt 11,- (Schüler, Studenten, Sozialcard, Behinderte mit B im Ausweis). Abendkasse: 17,- / 10,- €